4 x 10 Amp adaptive source controller
This 4 x 10 Amp adaptive source controller is designed to provide scene set dimming of lighting loads that require either leading or trailing edge dimming. This FET based adaptive dimmer is suitable for resistive, inductive and capacitive loads. In the event of reactive loads being detected, it uses patented circuitry to protect both itself and the connected load. With a 128 scene integral memory this device offers multiple control options to meet the most demanding specifications.
The device is complete with dynamic voltage and current monitoring. This facility provides short circuit protection, and protects the lamps from thermal shock and so extends the lamp life. It is completely silent in operating mode when using trailing edge dimming. In addition to the network connectivity, it also has an audio visual port and auxiliary, as well as a DMX512 optional input. The versatility and adaptability of this product makes it the perfect device for hotel ballrooms, museums, visitor centres, entertainment venues, and as part of large integrated systems.
Suitable for 40 Amp single phase supply

MCB protection behind lockable hinged cover

Dimensions: 375 x 330 x 155mm
(RCBO & RCBOX - Consult iLight)

Weight: 9 Kilograms (SCA0410D - 10 Kilograms)

Input isolator not included.
Available options include:
S - Single Pole
N - Neutral Disconnect
D - Double Pole
RCBO - RCBO Breakers
RCBOX - Field fitting of RCBOs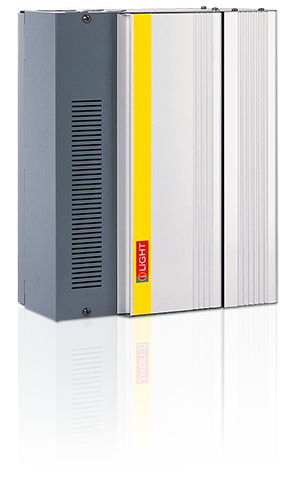 CE compliant to all relevant standards
Designed and manufactured to ISO9001:2015 standards
4 x 10 Amp fully rated programmable and adaptive source controller module
128 scene memory
Each channel can be set for leading or trailing edge dimming suitable for resistive, inductive and capacitive loads
Complete with iProtect™ lamp protection and auto short circuit protection
Multiple choice of circuit protection and security door to MCBs
Optional RCBO per channel
Fail to full safety feature
iCAN Network inputs
Audio Visual Port (RS485)
Optional: DMX512 input
Panic/fire alarm input
Configuration stored in Non Volatile EEPROM
Firmware storage in reflashable FLASH memory over iCAN network