10 Port Self Addressing DALI Lighting Control Module
Intelligent pluggable lighting control module with 10 auto addressing DALI outputs. A maximum of 30 DALI luminaires (or short addresses) can be connected per LCMD-10, distributed at will across the 10 ports. In addition, each port supports 1 DALI Emergency Luminaire, 1 DALI IU or DALI Keypad and 1 DALI Sensor.
DALI Luminaires, inputs, control plates and sensors are auto discovered eliminating the time consuming identification process normally associated with DALI systems.
With 'out of the box' functionality, the LCM auto addresses and groups the DALI devices with a default configuration as soon as power is provided. The system is then fully operational with senors and control plates removing the need for a commissioning engineer at startup. Should a connected device require replacement, the LCMD-10 will address the device upon connection and the system will 'self heal' requiring no intervention from a commissioning engineer.
Where connection is to a DALI emergency inverter using the extended DALI emergency protocol, monitoring of lamp failure, battery failure, driver failure and emergency reporting is also available.
The low profile design of the LCMD-10 is ideal for low ceiling voids or mounting directly on cable tray.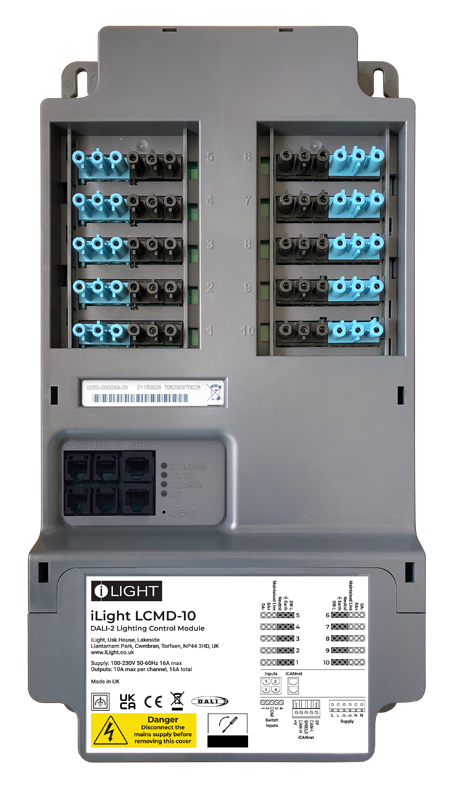 10 auto addressing DALI ports with Relay switch output and maintained supply
Supports iLight DALI inputs, control plates and sensors
Supports DALI type 8 Tuneable white
Low profile, ideal for ceiling voids with limited space (Approximately 105mm depth, subject to cable type)
Full DALI feedback for lamp status, DALI error and EM test
Emergency testing of DALI and conventional luminaires
CE compliant to all relevant standards
Designed and manufactured to ISO9001:2015 standards