This compact digital dimming and switching controller provides 12 switched power circuits with 12 channels of scene set dimming for Broadcast DALI, DSI or 1-10V control. Its 10 Amp power relays make it suitable for independent non-dimmable loads as well.
Typical applications include the bulk dimming of DALI or 1-10V connected luminaries where power switching is also required. This is particularly desireable in medium to larger spaces that need manageable and controlled light, such as open plan offices, auditoria circulation lobbies, or as part of a comprehensive network in large building complexes.
The knockouts to the top of the enclosure have been designed to line up with any of the original iLight source controllers making replacement quick and easy in a retrofit environment.
A dedicated knockout is provided for iCANnetTM connection to the EN3-SCMH1210 and several accessories are available to aid the installer in connection of the iCANnet network.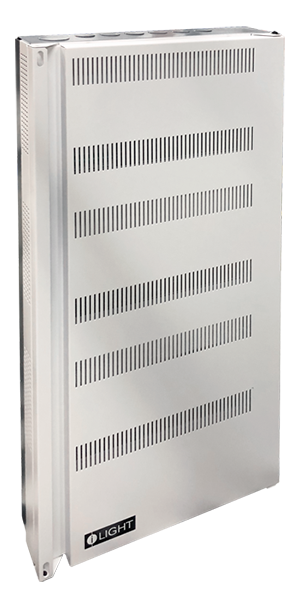 120 Amp total box load on 12 circuits
Broadcast DALI, DSI or 1-10V control
128 scene memory
Fail to full safety feature
iCAN network inputs
Panic/Fire alarm input
Configuration stored in Non Volatile EEPROM
All metal construction
Lockable hinged door
Front panel and door ventilation
CE & UKCA compliant to all relevant standards
Designed and manufactured to IS09001 standard