12 Channel x 1A Adaptive Dimmer - Controls Enclosure
Designed and tested to meet the unique demands of mains dimmable LED the EN3-SCMA1201 is the ideal solution for your lighting control needs.
Our "iLight Adapt" trailing edge technology will adapt to the particular characteristics of each connected LED load to deliver the best possible dimming performance and compatibility. Scalable dimming curves optimise the effective dimmable range particularly enhancing control and sensitivity at low lighting levels.
In addition to its "iLight Adapt" trailing edge mode, EN3-SCMA1201 also offers leading edge and switched modes, selectable by channel, to extend the capabilities beyond just LED loads to other lighting types such as incandescent and halogen lamps for dimming or switching
(Note: EN3-SCMA1201 is not for use with inductive loads).
The compact design of EN3-SCMA1201 delivers system flexibility as well as reducing installation costs and space used. Being part of the iLight system, it can be seamlessly integrated into flexible lighting schemes with any type of lighting load for commercial, architectural and residential applications. Integration with Building Management Systems allows for centralised control and management of the lighting system.
The knockouts to the top of the enclosure have been designed to line up with any of the original iLight source controllers making replacement quick and easy in a retrofit environment.
A dedicated knockout is provided for iCANnet connection to the EN3-SCMA1201 and several accessories are available to aid the installer in connection of the iCANnet network.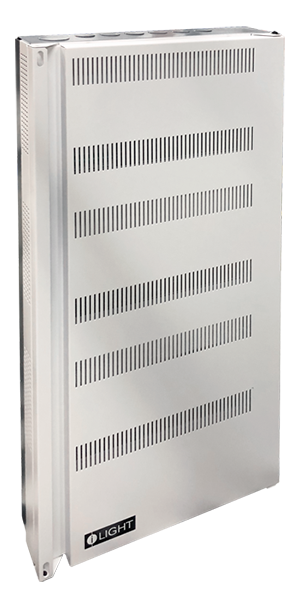 Compact 12 x 1A mains dimmer optimised for LED loads
Channel pairing for 2A loads
Selectable dimming modes – "iLight Adapt" trailing edge, leading edge and switched
Scalable dimming curve to optimise the usable dimming range of a load
No minimum load
Quiet dimming operation
All metal construction
Lockable hinged door
Front panel and door ventilation
CE & UKCA compliant to all relevant standards
Designed and manufactured to IS09001 standard