The EN1-SCMD2 is a 2 universe DALI ballast controller comprising an EN1 enclosure prepopulated with an SCMD2, protective device and internal supply wiring. The EN1-SCMD2 enables control of up to 128 individual addressable DALI devices including luminaries and DALI relays.
iLight DALI multisensors and control plates can be added to the DALI universes creating a complete DALI solution. Each DALI universe supports up to 64 groups and can monitor the performance of DALI addressable devices and report status back through iCANnet. Emergency light tests and reporting can also be instigated through this versatile lighting controller.
The compact design of EN1-SCMD2 delivers system flexibility as well as reducing installation costs and space used. Being part of the iLight system, it can be seamlessly integrated into flexible lighting schemes with any type of lighting load for commercial, architectural and residential applications. Integration with Building Management Systems allows for centralised control and management of the lighting system.
The knockouts to the top of the enclosure have been designed to line up with any of the original iLight source controllers making replacement quick and easy in a retrofit environment.
A dedicated knockout is provided for iCANnet connection to the EN1-SCMD2 and several accessories are available to aid the installer in connection of the iCANnet network.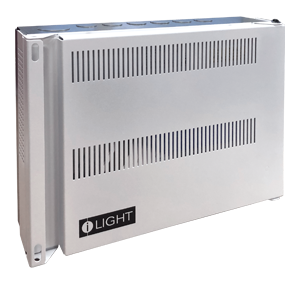 DALI controller – can individually dim, switch and monitor up to 128 DALI addressable ballasts
64 groups per DALI universe
Includes ability to control and test DALI emergency fittings
Supports iLight DALI sensors and control plates
2 Internal DALI universe power supplies
Each universe has a dedicated test/override button allowing the installer to test or override the installation prior to commissioning
DALI universe LED status indicators
Configuration stored in Non Volatile EEPROM
Firmware storage in reflashable FLASH memory over iCAN network
Configurable start up mode
All metal construction
Lockable hinged door
Front panel and door ventilation
CE & UKCA compliant to all relevant standards
Designed and manufactured to IS09001 standard