3.5" TFT LCD screen with analogue touch overlay
The LCD touch screen is a flexible device which provides an intuitive "user friendly" method of interfacing to the iLight control system. The LCD touch screen provides virtually a limitless flexibility of system configuration and control. It is completely software based, and programs can be tailored to suit the precise needs of the user. The touch screen can also be used to provide control of other integrated systems such as audio, curtains, blinds and heating.
The TSC30 incorporates fully customisable graphics which allows the user to create the exact look and feel of their screen. From a welcome page in a hotel suite that includes a background image of the hotel, to a minimalist theme for a home cinema room, the LCD touch screen can be tailored for you. A full choice of fascia colours and metal finishes coupled with a comprehensive range of graphic 'themes' within the software library allow the touch screen to blend into it's environment.
Designed to compliment the Classic Series
Fully customisable graphic layouts
Wide choice of special order bezel finishes
Fits Double gang UK backbox

Dimensions: 146 x 86mm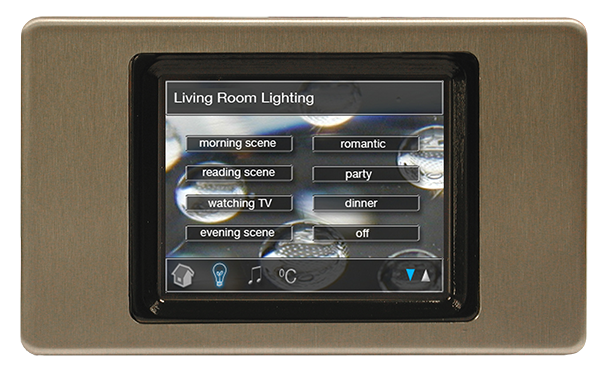 3.5 inch (89mm) diagonal backlit LCD screen with analogue touch overlay
¼ VGA 320 x 240 pixel resolution
65000 Colours available
Fits standard double gang backbox (35mm Depth)
Selection of Bezel finishes with screwless fixing
Allows the user to easily reprogram their own scenes (engineer site vist not required)
Supplied with basic configuration installed
Standard buttons and backgrounds supplied with configuration software
All graphics and buttons can be customised
Programmable backlight level to automatically reduce screen brightness to a non-intrusive level after time out period
Password feature to allow different access levels
Large memory allows for up to 250 pages depending of graphics used
Designed and manufactured to ISO9001:2015 standards