Revio Control Panels
Revio is a premier range of lighting control panels that combines a simple user interface with superb design, and broad configurability.
Lighting level control is combined with a simple on/off action in one ergonomically simple rotary button control. Separate scene or channel/zone buttons are activated using advanced capacitive touch plates that sit under a clean front surface. Standard or user defined inserts enable Revio to be adapted for virtually any environment and configuration.
Revio is the only lighting control user interface available that allows for simple on/off raise lower control, scenes, and individual zone control within a single gang control.
Scene and Zone control from one plate

Dimensions: 70 x 123mm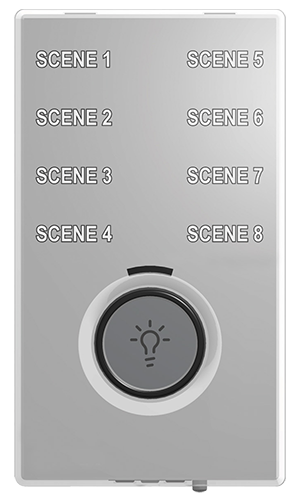 Labeling, colour, style, language and logos completely customisable
Printed inserts easily produced to your requirements
Configuration stored in Non Volatile EEPROM
Firmware storage in reflashable FLASH memory over iCAN network
Configurable start up mode
CE compliant to all relevant standards
Designed and manufactured to ISO9001:2015 standards