iCANnet™ control using iPhone, iPod touch, iPad
iLight mobile applications for iPhone®, iPod touch®, iPad® now bring fast and intuitive control of a complete lighting system to a hand held device. Navigate floors and rooms to choose, adjust and save lighting scenes with simple touch control operation.
Mobile applications must be used in conjunction with iLight EG2 and EG2-NA Ethernet Gateway devices for network access.
At turn on, the network will recognise each mobile device and auto populate with the latest layout, scene and level settings for immediate use. Networks require initial commissioning and setup.
Installations may support multiple devices and varying security levels permitting only authorised user to make alterations.
Screen views can be personalised with custom background images via the mobile device. Area, room and floor labels may be individually tailored for the installation at setup.
Application includes demo program to preview and learn operational capabilities prior to commissioning.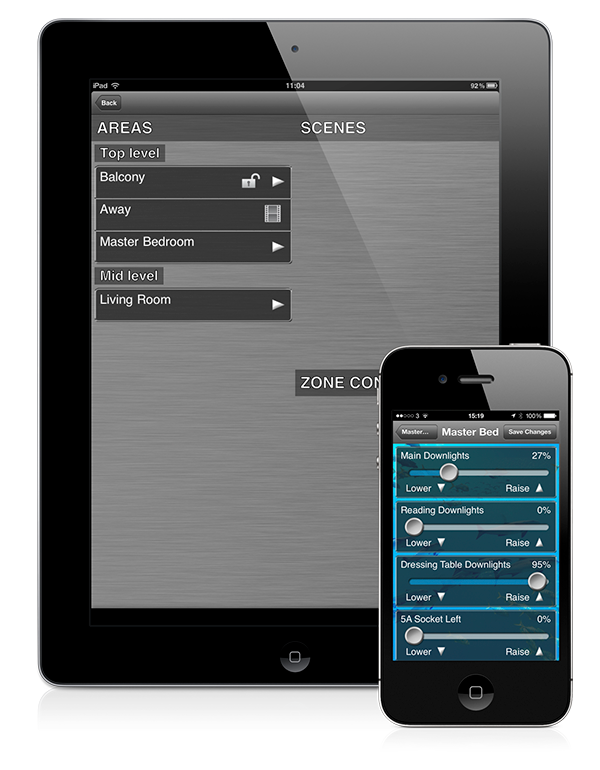 Mobile user interface for controlling iLight's iCANnet™ lighting network
Bi-directional control and feedback
Supports multiple iPhone®, iPod touch®, iPad® devices on same network
Automatically loads room and scene information when connected
Selective password protection
Adjust and save changes
Customisable background images
Intuitive fader and switch icons