Ethernet Gateway
The Ethernet Gateway provides a connection between an iLight network and an Ethernet LAN. This allows a user to control and configure the iLight system using iCANsoft on a LAN network PC or via the internet rather than by connecting directly into iCANnet™. Where a wireless LAN is in place (or by connecting a wireless router into the Ethernet Gateway) the user can access the network with a Wi-Fi enabled PC running iCANsoft.
The Ethernet Gateway is also the host for the iLight series of remote applications including iOS (iPhone® / iPod touch® / iPad®) and a web server front end where applications are downloaded separately. Coupling the EG-2 to a WIFI network enables scene control, visual feedback and modification from your hand held device.
The Ethernet Gateway also facilitates connection to the internet when used with iCANsoft, a firewall, ISP and a Ethernet switch, this then enables remote connection for programming & obtaining diagnostics of the lighting control system.
The built in astronomical timeclock feature enables pre-programmed timed events for your lighting system. The holiday mode feature delivers an added feeling of security as the system can replay up to 2 weeks of recorded activity whilst the building is unoccupied.
The Ethernet Gateway is available in two versions: EG2-NA - Ethernet Gateway including power supply and steel enclosure.
EG2 - Ethernet Gateway in DINrail enclosure. Power Supply and metal DINRail enclosure available to order separately.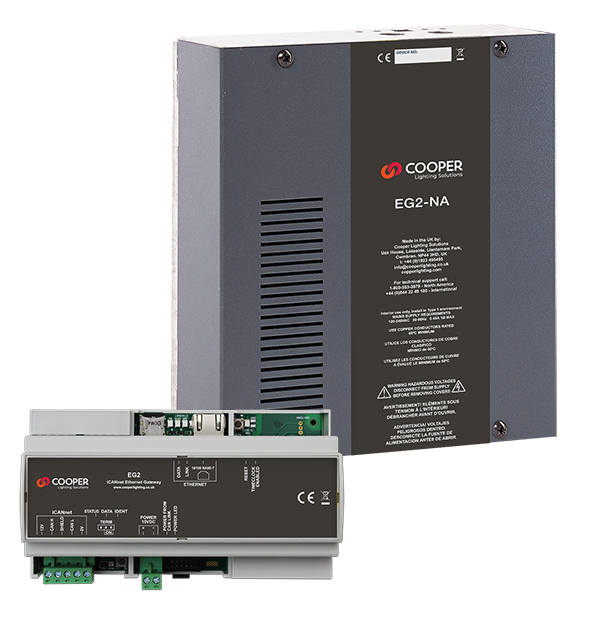 Connects iLight's iCANnet™ network to 10/100 Mbps Ethernet/LAN
Configurable IP address
Facilitates internet and Wi-Fi LAN connection into iCANnet™
Astronomical time clock (Requires a permanent internet connection for NTP*)
Holiday mode (Replay learned usage when absent**)
Supports iLight applications via mobile devices. (iPhone® / iPod touch® / iPad®)
Supports ASCII control strings
16 Sequences, each with a maximum of 128 actions
Status LEDs
CE compliant to all relevant standards
Designed and manufactured to ISO9001:2015 standards
* Network time protocol
** Requires time clock to be activated and a permanent internet connection