4 x 10 Amp Switched Relay Source Controller
This 4 channel high powered intelligent switching unit provides outstanding features and performance at a truly competitive price. It is rated for 40 Amps single phase of continuous inductive lighting load. This unit is designed for switching large lighting loads of most types. With a 128 scene integral memory this device offers multiple control options to meet the most demanding specifications.
With iLight's iCAN network connectivity, it has the capability of being linked with a virtually limitless number of other iLight products to build up to any size of system. This product is designed for projects where there are multiple channels of Architectural lighting. It is the perfect choice for shopping malls, atria exterior lighting and industrial areas.
Suitable for 40 Amp single phase supply

MCB protection behind lockable hinged cover

Dimensions: 280 x 220 x 155mm
(D - 400 x 220 x 155mm. RCBO & RCBOX - 340 x 255 x 155mm)

Weight: 4 Kilograms (D, RCBO & RCBOX - 5 Kilograms)
Input isolator only included on RCBO and RCBOX versions.
Available options include:
S - Single Pole
N - Neutral Disconnect
D - Double Pole
RCBO - RCBO Breakers
RCBOX - Field fitting of RCBOs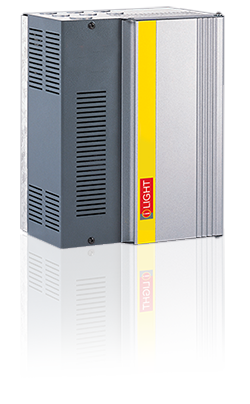 4 x 10 Amp source controller
Switches resistive, inductive and capacitive lighting loads
Quiet operation
128 scene memory
Multiple choice of circuit protection
Security door for MCBs
Optional RCBO per channel
Fail to full safety feature
Panic/Fire alarm input
iCAN network inputs
Audio Visual Port (RS485)
DMX input option
Configuration stored in Non Volatile EEPROM
Firmware storage in reflashable FLASH memory over iCAN network
CE compliant to all revelant standards
Designed and manufactured to ISO9001-2015 standards