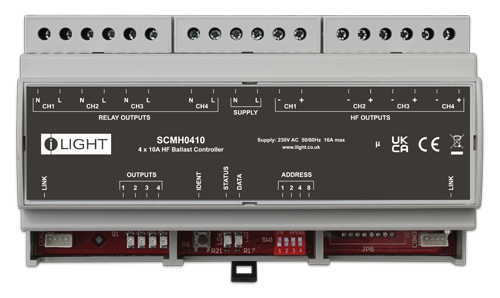 4 x 10Amp Digital Dimming and Switching Controller
This compact digital dimming and switching controller is a 4 channel unit that provides 4 switched power circuits with 4 channels of scene set dimming for Broadcast DALI, DSI or 1-10V control. Its 10 Amp power relays also make it suitable for independent non-dimmable loads.
The unit is rated for 16 amps single phase of continuous inductive lighting load. This unit is designed for switching lighting loads of most types.
The unit is used with an MPM2400 iCANdin master processor module that can manage up to 24 channels of varied dimming and switching within a DINrail distribution board. The MPM includes a 128 scene integral memory and offers multiple control options to meet the most demanding specifications. The MPM connects into the iLight network and links to the iCANdin power modules with a short serial data cable within the distribution board.
With the iLight network connectivity, it has the capability of being linked with a virtually limitless number of other iLight products to build up to any size of system. This product is designed for projects where there are multiple channels of architectural lighting.
Connects to MPM
1-10V, DSI or DALI control output

Max total load 16A

Dimensions: 160 x 90 x 58mm

Weight: 1 Kilogram
4 x 10 Amp source controller with 4 Broadcast DALI, DSI or 1-10V dimming outputs
16 Amp total load over 4 circuits
DIN rail mount with lugs for wall mounting if required
Switches resistive, inductive and capacitive lighting loads
Quiet operation
Configuration stored in Non Volatile EEPROM
Firmware storage in reflashable FLASH memory over iCAN network
Configurable start up mode
Circuit protection installed separately as required
CE compliant to all relevant standards
Designed and manufactured to ISO9001:2015 standards