4 x 10 Amp inductive source controller
This 4 circuit robust source controller is fully rated for 4 x 10 Amp of continuous inductive lighting loads. Whether used for tungsten, low voltage or cold cathode light sources, this unit will provide reliable service over many years. With a 128 scene integral memory, this device offers multiple control options, to meet the most demanding specifications.
In addition to the iLight connectivity, it also has an audio visual port, and panic/fire alarm input. It is typically used on its own in small areas that need manageable and controlled light such as board rooms, restaurants and lecture theatres, or as part of a comprehensive network in large building complexes.
Suitable for 40 Amp single phase supply

MCB protection behind lockable hinged cover

Dimensions: 400 x 220 x 155mm

Weight: 7 Kilograms (D, RCBO & RCBOX - 8 Kilograms)

Input isolator only included on RCBO and RCBOX versions.
Available options include:
S - Single Pole
N - Neutral Disconnect
D - Double Pole
RCBO - RCBO Breakers
RCBOX - Field fitting of RCBOs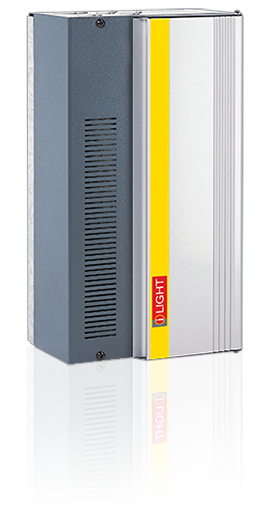 4 x 10 Amp fully rated source controller
Dims resistive, inductive and low voltage electronic transformer loads (that are compatible with leading edge dimmers)
Quiet operation
128 scene memory
Multiple choice of circuit protection
Security door for MCBs
Optional RCBO per channel
Fail to full safety feature
iCAN network inputs
DMX input option
Audio Visual Port (RS485)
Panic/Fire alarm input
Configuration stored in Non Volatile EEPROM
Firmware storage in reflashable FLASH memory over iCAN network
CE compliant to all relevant standards
Designed and manufactured to ISO9001:2015 standards