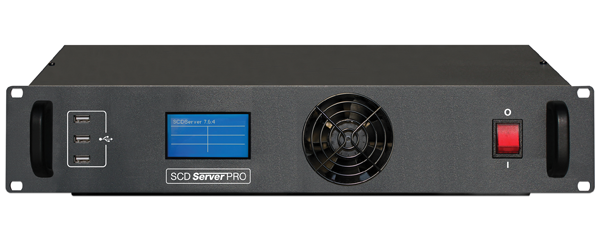 Tracking backup event controller & Architectural system integration

A rackmounted, fully featured, lighting control system ideal for use in larger performance installations and networks where show replay, tracking backup or standalone operation is required.
Running on ZerOS - a powerful and proven lighting control application designed for the control of all types of performance lighting including LED, intelligent moving lights, media servers, effects and traditional theatrical lighting fixtures and dimmers.
SCD Server Pro features DMX input and capture along with interfaces to MIDI, ArtNet, streaming ACN and contact closures as well as acting as an iLight iCAN network device within a distributed intelligence architectural lighting network.
6 Channel Close Contact trigger
MIDI & SMPTE Timecode
Sound to Light Input
CE compliant to all relevant standards
Designed and manufactured to ISO9001:2015 standards
19" Lighting Control System based upon the ZerOS operating system
4096 Control channels, fully patchable to 4 DMX Universes (DMX Output via 5 Pin XLR or via Ethernet)
Cue Stack Sequence Playback
Effects engine
Colour, Beamshape, Position and Effect Palettes
Integrated colour picker (CMY, RGB and HSV)
Auto palettes, groups and macros
4x Onboard USB ports for software updates, show backups and connection of accessories
XGA Monitor Output
Onboard fixture library
Support for remote control through handheld devices and remote monitors (iPhone, iPad, Android & Windows Mobile)
DMX 512 Input